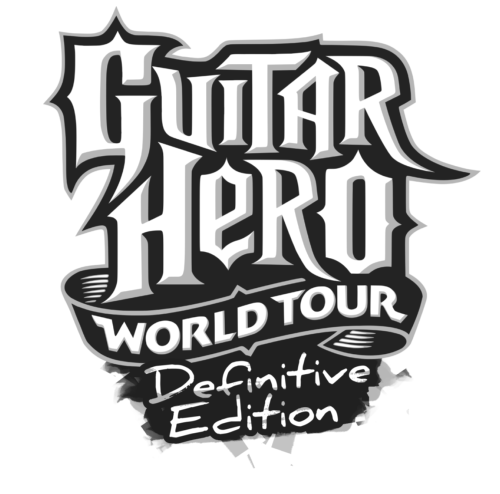 Guitar Hero World Tour: Definitive Edition is a content-filled, expansive mod for Neversoft's Guitar Hero: World Tour.
While the mod includes heaps of new characters and content, the aim is to extend the engine and bring it up to more modern standards and to expand its capabilities.
This is done through a plethora of internal tweaks, and reverse engineering of the game's various file formats.

Additional Characters
Guitar Hero World Tour: Definitive Edition comes pre-loaded with a wide array of different characters.
These are additional characters, and can be used alongside the default rockers! Rock out with fitting characters from previous Guitar Hero iterations, or get goofy with other Neversoft titles.
Gem Themes
Not a fan of the stock World Tour gems on your precious highway? Not a problem! Definitive Edition offers a small selection of different gem themes out of the box.
Drum away with gems from Guitar Hero: Warriors of Rock or go old-school with Guitar Hero III notes. A multitude of extra color themes are available as well, and selectable with a visual preview for each!

Flexible Controller Configuration
Ditch X360CE and configure your guitar the right way!
No more painful controller backends or spoofers. From modded guitars to Wiitars, any detected device can be configured in the game's built-in controller binding menu.

User Created Content
One of the biggest features of Definitive Edition is the ability to easily install user-created content!
Jam-pack (pun intended) your mod folder with hundreds of custom characters, selectable instruments, or fill it to the brim with an endless supply of custom songs. Let modding magic flow from your fingertips with a collection of publicly available tools.

Instrument Selection
Create your dream axe with World Tour's Create-A-Rocker menus, or select from a list of the best guitars before your gig!
Like Guitar Hero III's guitar select, you can now select your desired instrument before entering a show. Select from old favorites, or brand new guitars like modeled versions of controller counterparts!

Online Multiplayer
At long last, multiplayer is back, and better than ever!
Connect to revitalized servers and join members across the globe for a cooperative or competitive experience. Start a band, compete in face-off, or even tag along with local players to shred over the net! Custom characters and songs supported.

Extended Create-A-Rocker
Express your creative side with extended Create-A-Rocker capabilities!
Add brand new features to your rocker like nail color, back items, eye tint, and more! Definitive Edition allows you to build a rocker like never before.

Engine Improvements
Enjoy increased limits, larger caps, and overall freedom. Many restrictions from the game's dated 2009 engine have been lifted for your pleasure!
Utilize features from newer entries (and brand new features) including HO/PO chords and tap chords!
Debug Options
Pop open the tin of Neversoft's engineering and take a peek under the hood, in more ways than ever! With an easily accessible debug menu, a logging console, and plenty of other options, debugging is the easiest it ever has been. Skim over tomes of console messages and explore your crashes, or print to the console yourself in your own QB mods!
Other features include:
Enhanced Graphical Options
Disable Depth of Field, or enable borderless windowed mode!
Selectable Microphone Device
No more Logitech USB Microphone, use headsets and more!
Co-Existing Installation
Runs alongside your GH:WT install, no files replaced!
Flexible Game Launcher
Use the included launcher to tweak endless settings!
Share-able Create-A-Rockers
Proud of your work? Easily share your rockers with a friend!
Extra Practice Speeds
From 20% to 200%, step through songs at any desired pace!
>60 FPS Compatibility
Some features have been tweaked to allow playing at a high FPS!
And much more!
---
Guitar Hero: World Tour © 2009 Activision Publishing, Inc.

Guitar Hero World Tour: Definitive Edition is in no way associated with RedOctane, Neversoft, or Activision.
GHWT:DE is and always will be a non-profit fan-made project.